The jewel of Srinagar, the Dal lake is synonymous to a visit to Srinagar and almost a visual definition to the town. Spread over a straggling 26 sq.kms, it is the most photogenic stretch of this instance of paradise on earth and undoubtedly also the most sought after of attractions. Built in the Mughal era, donning its majestic architecture, are the Mughal gardens. The garden is a combination of the Nishat Bagh, Shalimar Gardens & Chashm-e-Shahi. The most prominent feature of the gardens its long stretches of cascading fountains makes this a must see for every traveler. Laid out in 1633, the Nishant Bagh fondly known as the Garden of Joy. Its beauty is enhanced by the well-manicured landscapes, long avenues of Chinar & cypress trees, rare flowering plants,
12 terraces & several bubbling fountains that's cover the whole expanse of the garden. Shalimar Bagh is one of a beautifully laid garden by Mughal emperor Jahangir. Exhibiting the exemplary craftsmanship of Mughals in horticulture, the place is quite popular with tourists from all over the world. The paramount reason why people come to Srinagar is for the relaxing and memorable Shikara rides. Taking the ride across the scenic Dal Lake at the backdrop of the majestic slow clad Himalaya's is indeed an experience in itself both enjoyable and unparallel. Hazratbal Mosque, situated on the western shore of the pristine Dal Lake, is a very sacred Muslim shrine in Hazratbal.
Hazratbal's special significance is derived from the fact that it houses a heir of the prophet Muhammad, a relic, titled Moi-e-Muqqadas. Lines of tulip cultivation in every possible colour with a backdrop of the majestic Zabarwan Hills, is the Indira Gandhi Memorial Tulip Garden and a view which one must not miss while in Srinagar. Dal Lake is marked by an island which houses ancient and beautiful Chinar trees. Don't forget to ask your Shikara to be steered in this direction to catch a view of this island.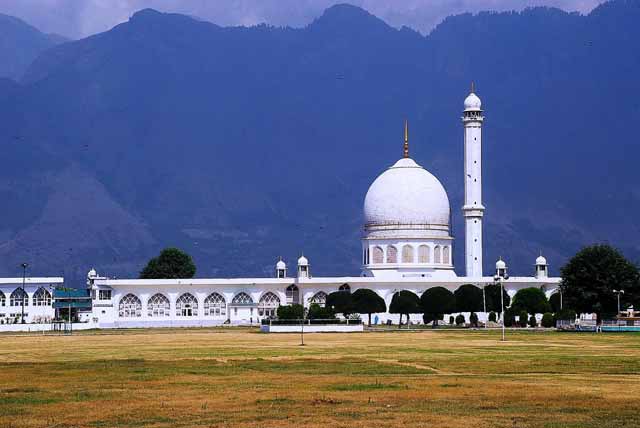 Visit this effulgent, age old temple in Srinagar to feel closer to the gods. Situated at a height of about 1100 feet on the south-east of the city, this sacred temple offers splendid views of the valley and the snow clad mountains of the Pir Panjal range. The famed Wular lake is India's largest freshwater lake and serves as a natural reservoir by drawing the excess water from the River Jhelum. An experience unparalleled, this unexplored and untouched lake is home to several species of birds and thus haven for bird watchers.